Preamble
Do cats have an agenda? Yes, of course they do! They may spend hours and hours sleeping every day but it would be a mistake to imagine that their lives are aimless or lack any kind of direction.
Once Pusia is up, which tends to be anywhere from around 2am to 4am, she has her routine. To the casual observer it may seem like a fastidious wash but this is all careful preparation for the busy day ahead.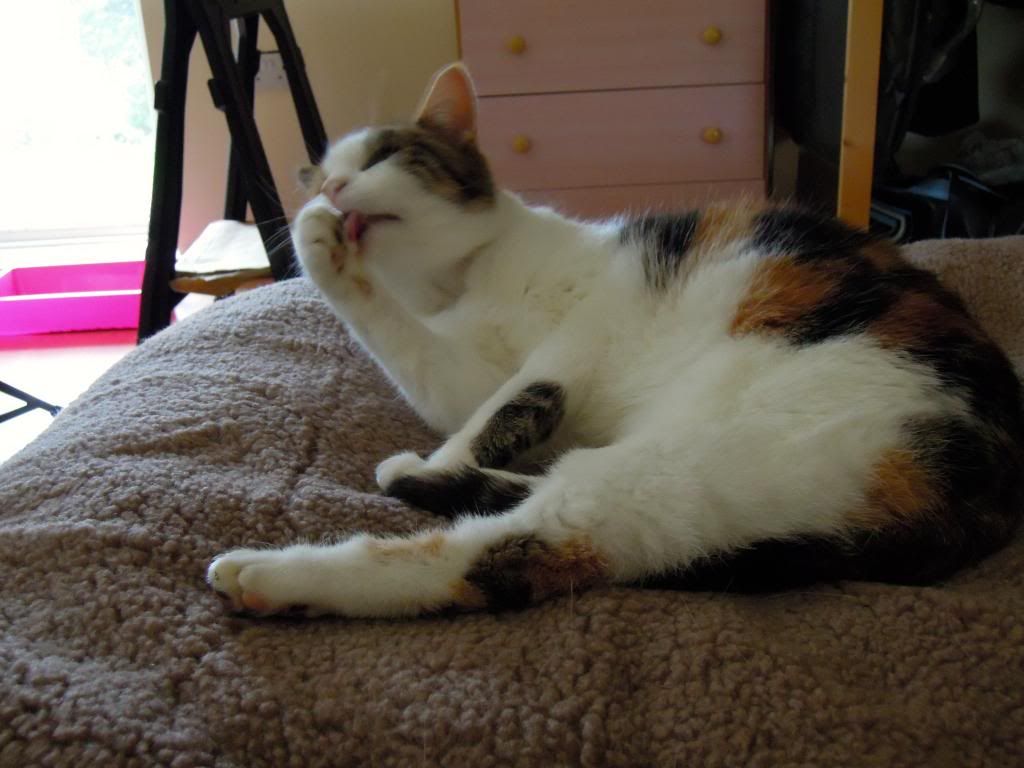 A quick clean and brush up before adventure.
Pusia likes to make sure that everything is in order before starting her day's outing. The moment I hear that familiar licking sound I know that she's about to set off into the big outside world.
Let Sleeping Dogs
It's true that both cats and dogs spend a lot of time sleeping. Whilst dogs do it somewhat reluctantly unless you tire them out on a long walk cats, who spend somewhere in the region of 16 to 20 hours every day sleeping, do it with conviction! Recently I met Riley in the USA.
Riley likes to spend time snoozing.
Riley is a gorgeous fellow who was lounging around every morning when I came downstairs. Like a cat, he seemed quite content to sleep in the living room. Like a cat he jumped at every sudden noise I made. Unlike a cat, he met the intrusion with the hope and optimism that it might be a signal that we were going out. He's not in a position to determine these things for himself.
When Pusia sleeps I have no doubt that she's preparing herself for the important business of hunting. In fact, most times she sleeps I see her paws curling and flexing as if she's catching something. There can only be one thing she's dreaming of...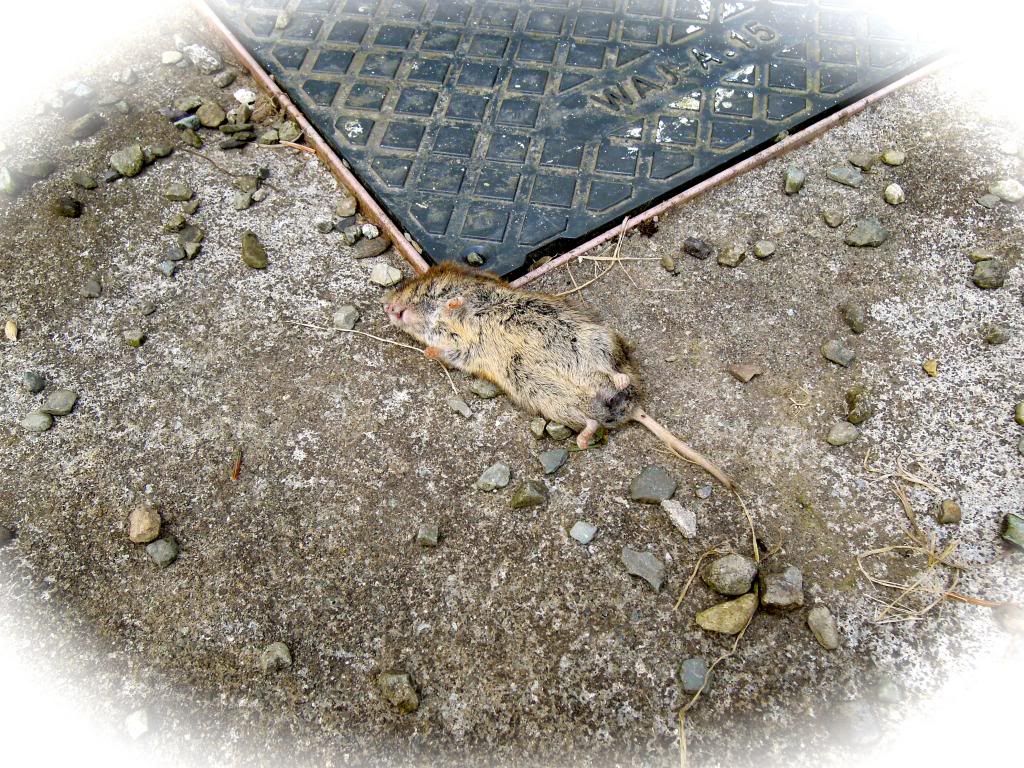 Mice! The stuff of cat dreams!
Once Pusia is awake there's no stopping her. Where there's a will there's a way! If by any chance I've forgotten to leave the cat flap open and Pusia want's out then she'll persist until she gets her way.
Then it's off out on her big adventure!
Free Spirits
Who could blame Pusia for wanting to be outside? I was warned by her former humans that she liked to go outside at dawn and often wouldn't return until dusk. At that point she lived on an estate with a busy road just outside. Now it's quite a different story. When she came to live with me she suddenly had the whole of rural West Cork to explore!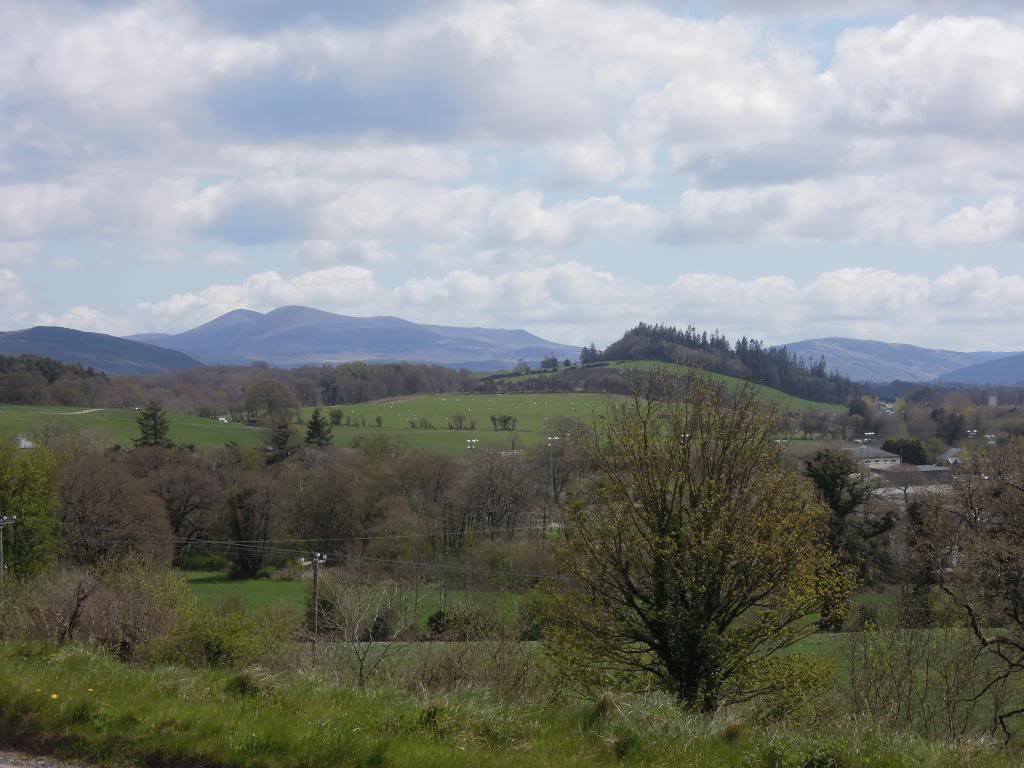 Pusia's hunting ground!
She loves to go wandering. She's been seen all over the place by the local farmers and she's quite a celebrity for catching the mice. Both my neighbours have found her in their respective houses at some point and each time she seems to have a separate agenda. In one she begs for food and in the other she causes mayhem with the clothes airer. Given that the latter incident I know happened with a neighbour who is not fond of cats, I can only chuckle in my more light heated moments at the Tom and Jerry type of scene that must surely have ensued.
There seem to be a number of different modes a cat goes into when roaming outside. This is what encourages my ponderings.
Fresh Air and Fast Food
The first thing it boils down to, I think, is that everything seems better 'al Fresco'. I've known times when Mru, my partner's cat, finds all her food much more appetising simply because we put it on a plate and left it outside.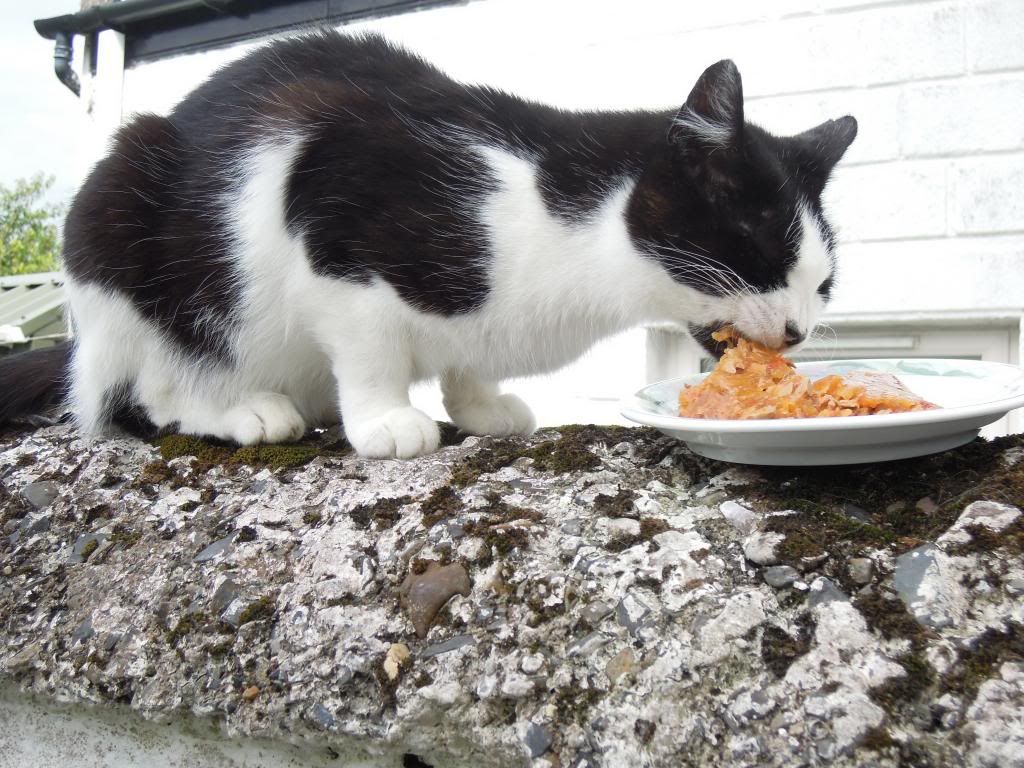 Mru enjoying an outdoor meal.
This 'outdoor' thing is replicated by Pusia every time I get home. Reluctant to greet me from inside the house she'll often charge out of the cat flap simply so she can enter the house from outside!
Then there are the times that she simply loves to sit outside. It can be raining, cold, windy, dark, miserable by any human's standards but she'll find the prospect of sitting out in the gloom an appealing prospect. There have been times when she's complained so much about not being let out into the cold that you'd think I was mistreating her! Often she just likes to sit on the doormat in the open doorway and watch the rain.
Close Encounters
Then there's the natural curiosity that all cats possess. Being a cat person, I seem to have more than my fair share of strange encounters with cats. Recently I sat down to admire the panoramic view of Cork City at the top of Richmond Hill when this beautiful Bengal suddenly appeared.
The natural curiosity of cats leads to some interesting encounters.
She was only about six to eight months old but her boldness knew no bounds. After an initially cautious approach she realised that I offered the potential for loads of cuddles. Apart from anything else I had a couple of interesting looking shopping bags to rummage through. There was no leaving me alone!
I know from countless people that Pusia is similarly motivated to approach people. She's not what you'd call an over friendly cat but she likes to make acquaintances when she's out and about. Recently she has jumped into a farmer's tractor, investigated a workman's truck and regularly greets the postman on his rounds.
Favourite Hangouts and Haunting
When it comes to walkabouts, Pusia prefers solitude. I've tried accompanying her on her walks once or twice (she leads the way, obviously) but in the end she'll leap a fence or climb some obstacle that prevents me from following her.
Beata's cat, Geshe, can be equally evasive but he'll also follow Beata when she goes on her walk with Timo, the Border Collie. Timo naturally harbours some resentment that he has to be on the lead but it's to everyone's delight when they turn a corner on the walk at some point to find Geshe awaiting their arrival.
Geshe likes to surprise everyone...
During a recent scare, Geshe went missing for about three days. He's a natural explorer but we know that he likes to go into other people's houses too. Beata had almost given up hope of his safe return when, after three days, she was standing chatting to a neighbour and heard his approaching meows!
In a tearful reunion a somewhat starved looking Geshe leapt up onto the wall having completed another successful incursion into the outside world. Evidently he'd been on one of his undercover intrusions into a house and had probably been locked in for a bit.
Home is Where the Hearth Is
Pusia certainly roams a long way but what with her supersonic hearing and a love for familiar haunts, she's never missing for too long. I'm quite certain that there's enough to keep Pusia entertained and distracted in the outside world for her never to come home. She could certainly exist quite happily without my help.
Cats, however, realised long ago that they could make their lives much easier by taking advantage of certain humans that are disposed to taking care of them.
Freddy, the friendly feral cat, certainly realised this a long time ago. Although he's not invited into the house, he'll hang around outside at key points and occasionally sticks his head through the cat flap.
In essence, Pusia and Freddy have exactly the opposite problems. Pusia has a lovely warm home and wants to spend a lot of time outdoors. Freddy is a free spirit and a vagabond at heart who'd like to have Pusia's warm home.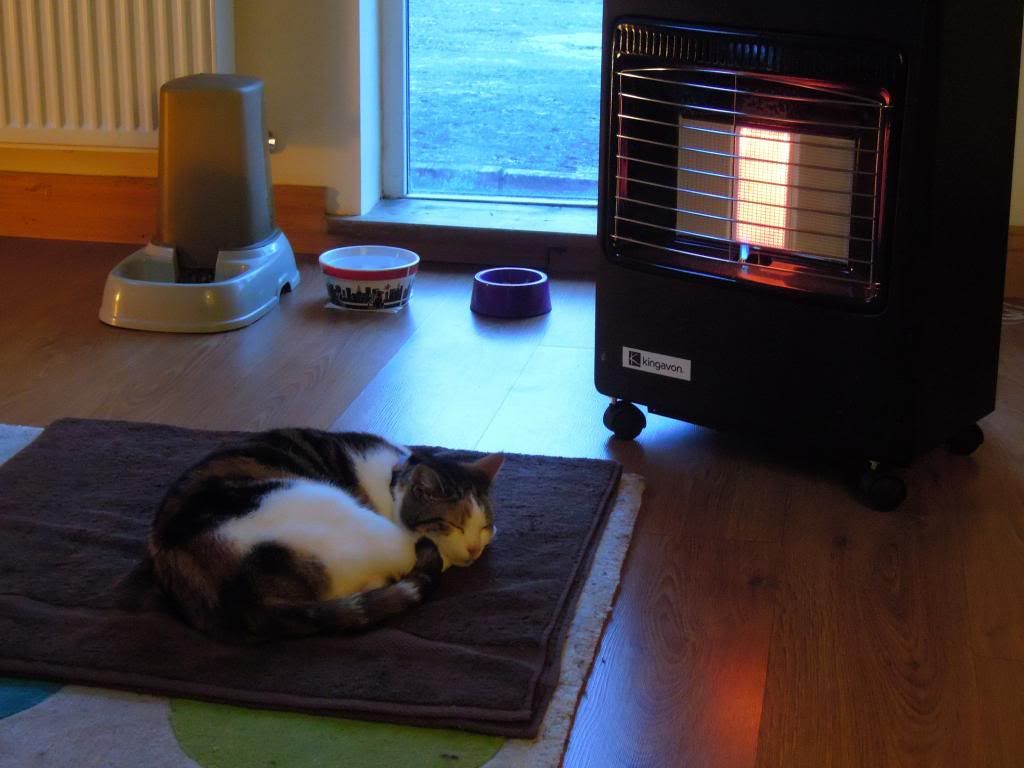 Pusia has things sorted!
I reckon Pusia may not realise how lucky she is until she arrives home to smell Freddy's scent around the house. She'll protest a bit and insists on going out to check the garden for him but, at the end of the day, she will insist on going off on her jaunts.
Wherever it is that Pusia goes, she'll always come home for her comforts. She's certainly never been to see the Queen of England! Why would she need to when she's the Queen of Cloontiquirk?