Preamble
So far in my account of the Warp Four trip to Bay City I've spoken about the preparations and the choice of songs. The lessons learnt have been very local ones: I tended to stress unnecessarily; our musical tastes and responses are shaped by our own cultural experiences.
Today I'm looking a bit further than the confines of Warp Four. I want to consider the warm and generous welcome we were given in Bay City by our hosts, Chris, Elise, Scot and Kerry. There were other hosts but theses were the people we had most to do with. As the host families for performers in a massive event I suppose you could argue that a certain level of hospitality is expected. Any sense of obligation was totally overshadowed by a generosity of spirit that overflowed into our encounters with strangers and hosts alike.
Sex and the City
I have a problem with these US sitcoms that would have us believe that Americans live in great big houses, in leafy suburbs, with massive gardens, swimming pools and BBQs. We arrived in Bay City to find that it's true! Our wonderful hosts all lived in those fabulous houses just like you see in Sex and the City or Desperate Housewives!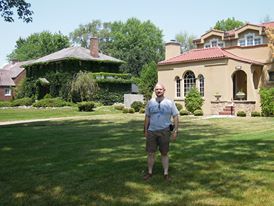 It can be quite daunting when you arrive in a neighbourhood like that. Chris, one of our hosts and the city mayor, immediately put us at ease saying,
"We only have one rule and that's that you treat our houses as if they were your own!"
He wasn't joking. Within moments of our arrival we were sitting around the pool, singing songs, drinking beer and eating pizza! It was very relaxed and we felt totally at home. I was staying next door with a lovely couple, Scot and Kerry. The generous welcome was repeated when Kerry told me, "If you can find it you can have it!"
Murphy's Garage Pub
As we relaxed into our new surroundings a few routines became established. These revolved around our performance schedule. We were there to perform, after all, but the socializing became pretty important too. Chris's garage became fondly nicknamed "Murphy's Garage Pub." There seemed to be an endless supply of beer in the fridge and it was a place where we could sit and talk until the early hours of the morning. It also had a really big fan which was useful when we chose to rehearse there in the 100º temperatures!
Chris was nearly always around to keep us company and he kept us amused with his stories. To add to the atmosphere he had an old 8 Track player with Elvis recordings. Sometimes it felt like we'd been transported back to the 70s. When we weren't relaxing in the garage we were free to chill by the pool.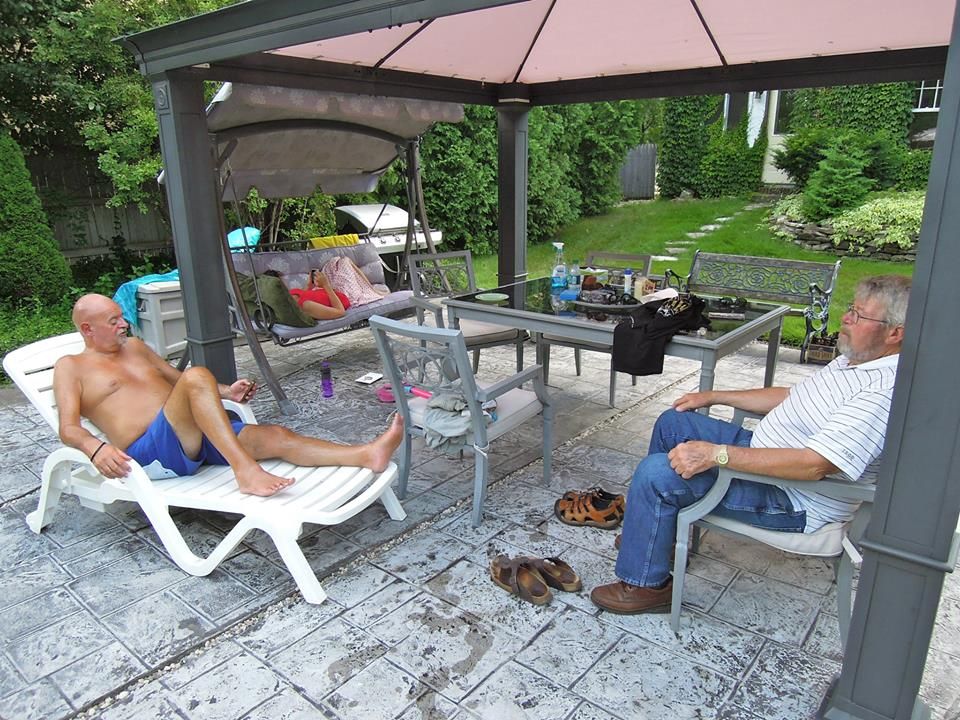 No Limits
The more we explored the town the more we realized that this generosity extended beyond our immediate hosts. I'm talking about a generosity of spirit. It became a struggle to stop people paying for us!
As I've already said, the portions were enormous if we ate out. Our waitress made it really special for me. Not only was everything physically big. The people had big hearts too.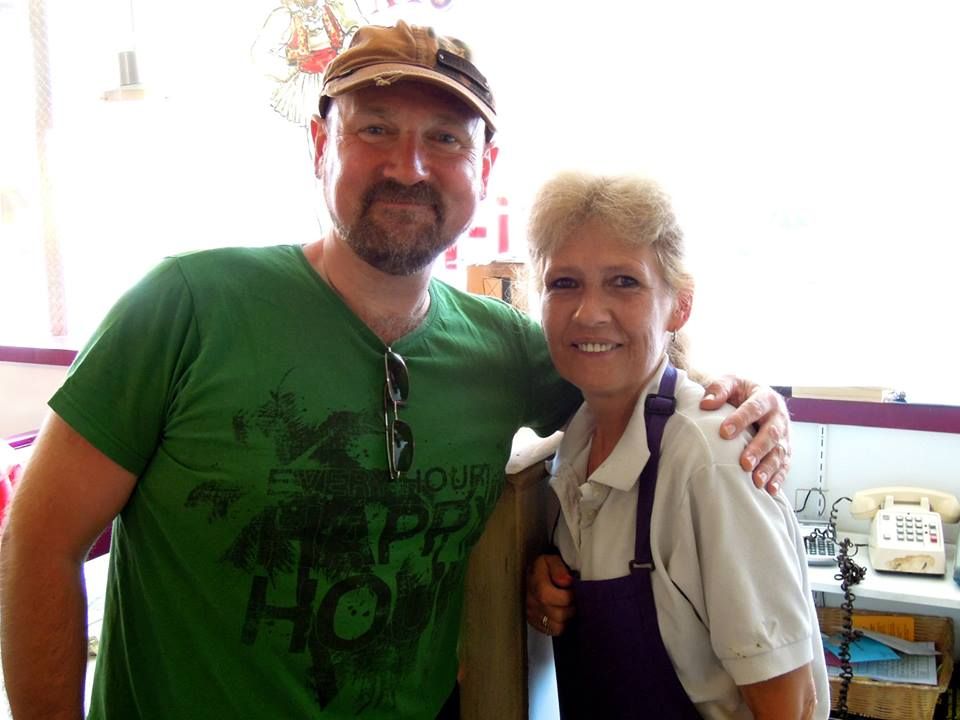 She was a great example of this. As she put the breakfast down in front of us she said,
"Good luck boys! Hope you're hungry!" and then she punctuated every coffee refill with little jokes and words of encouragement. It was great!
Pay It Forward
When you're in that situation, when people grab the bill from under your nose or push cash at the cashier before you can pay for anything and insist on driving you everywhere you want to go, it's hard to know how you can repay your hosts.
Paul and I came up with a plan to cook a BBQ for them. We walked to the local supermarket and stocked up. Then we realized we had no way of getting our groceries home. So we left it at the store and walked home.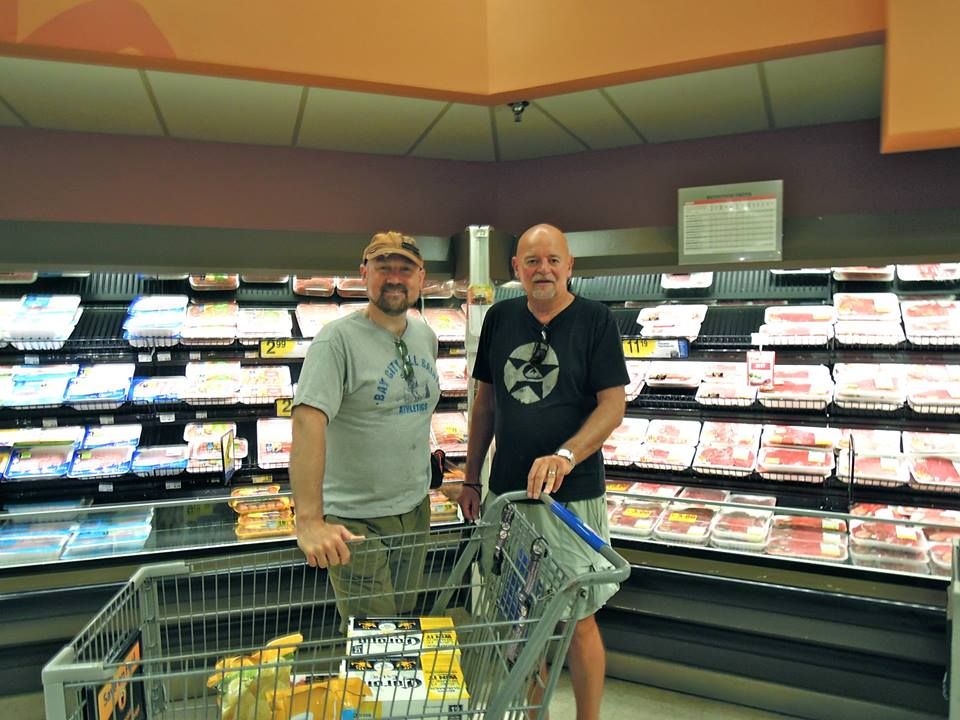 It can be amazing how things work out if you let them. We were obviously concerned when we found out that no one was home. There was no way we could get to the store and pick things up without a ride. Instead of fretting about it we sat down and I overcame my usual worrying nature, saying,
"Sure, let's just give it 10 minutes and if nothing happens in that time then we'll decide what to do then."
Elise, Chris's wife, turned up about 9 minutes and 59 seconds later. It was meant to be. Things have a habit of resolving themselves when you just let go and stop trying to control the situation. She gladly ran us to the store to pick up the groceries.
I had a great time cooking, Paul had a great time entertaining everyone with his stories and we were able to complete the circle of energy that had started with our hosts' generosity. It felt great to be able to do this.
Meeting Elvis
Being a part of this community for a short time was a fabulously rewarding experience. We had a lot of fun and enjoyed a totally different lifestyle to our normal daily existence. On the whole, though, it was a great example of the Law of Contribution.
Rather than thinking in terms of giving and receiving it's incredibly liberating to see how generosity on such a scale fosters a feeling of abundance. That abundance is a gift to the people who are involved and it manifests in the relationships, the conversations and the pace of life. If you're immersed in it then it becomes impossible not to reciprocate.
It's easy to fall into cliches and say things like the Americans do things bigger and better than us but it was simply amazingly different. On the other hand I can't ever imagine going out for breakfast in Ireland, having a waitress cheer me on while I eat and getting the chance to hang out with Elvis!