Preamble
Yesterday I related how I joined Warp Four for their recent performances at the Tall Ships Celebration. As a newcomer to sea shanties it proved to be quite an uphill struggle for me. The lads were encouraging and supportive, though. They also welcomed my input (sometimes with raised eyebrows and some witty Irish vernacular) and as a result we had an interesting mix of songs. Today I'm going to talk about the actual songs and how we came to include them.
National Identity
Pat and Paul have been singing sea songs for a long time. They have a clear idea of what constitutes this genre. Dermot now lives in the States. He's performed some sea songs there and he also brought a very American feel to some new songs. I come from the UK, have never sung sea songs but had an idea of what I thought constituted Irish music and some sea 'type' songs. It was going to be a rocky road from Dublin.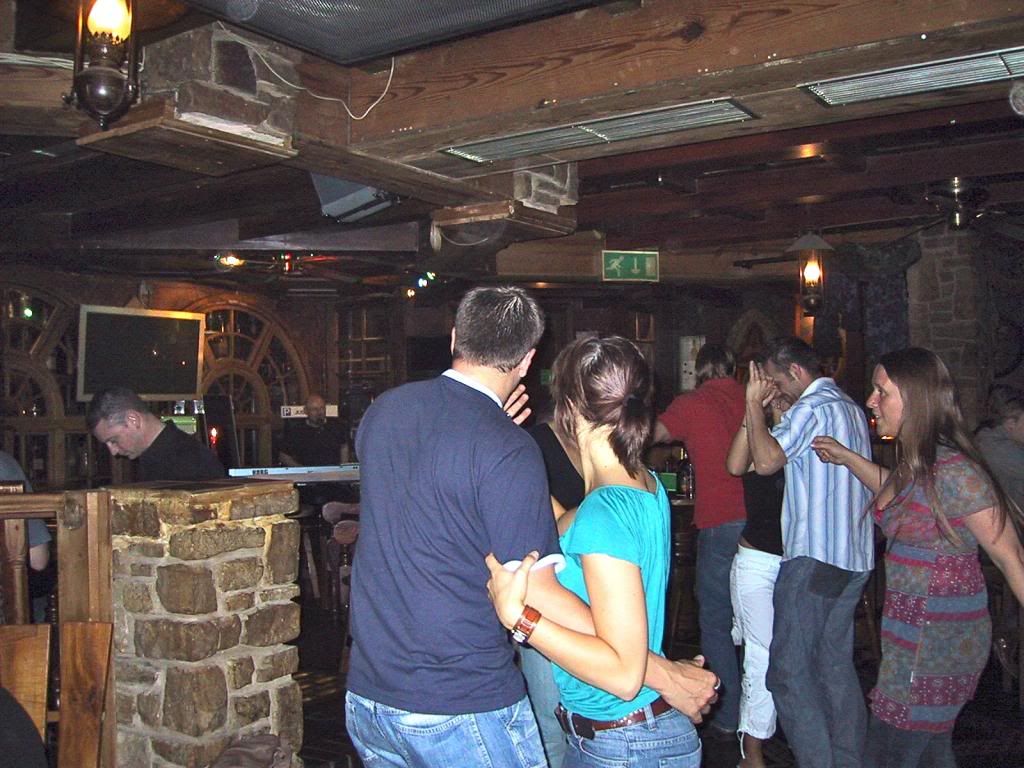 Gig in an Irish pub, Cologne, Germany.
The reason I had this notion of knowing what makes up an Irish set is because I spent time in Germany playing in Irish pubs. It was a testing ground for some of the songs that I've come to love, the kind the Dubliners popularized. In addition I studied Irish singing at University College Cork.
The great thing about the songs I know is that I have really positive associations with them. I've had some great times singing them. I chose them because of their ability to get people up and dancing or singing along. Crucially, however, I had never actually performed any of them in Ireland with Irish people!
Perceived Identity
Consequently, some of what I brought to the table for the Warp Four gig was met with some surprise. I'll never forget when I suggested we sing Seven Drunken Nights. It was met with a resounding "No!" from several voices at once, performers and non-performers alike. There is, it appears, a line that must not be crossed! The Rocky Road to Dublin just about slipped through the net. Accompanying it on the concertina was unthinkable.
The fact is that while there are some popular songs that are just about acceptable as part of an Irish set, the poor ol' Irish man who has to sing them can only stand so much. For me they're great songs and full of fun. But that's the difference. This is the exported view of Irish music that I'd come to know whilst living in Germany.
It became clear that we had to compromise to some extent. Eventually we agreed on a mix of songs that we could use to represent the Irish image. I had some input and included The Kangaroo and The Little Ball of Yarn. Paddy's Green Shamrock Shore had a big impact. Now this, for me, was interesting. Paul has the perfect voice for this song and on this occasion Dermot added a haunting guitar accompaniment.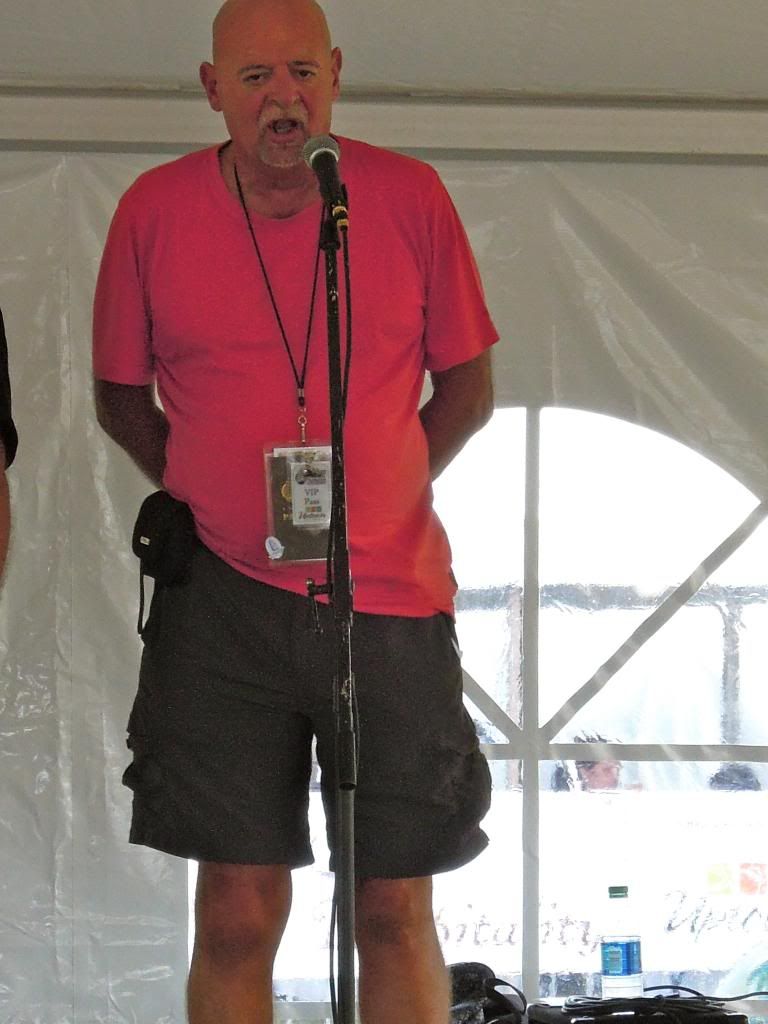 Paul, who contributed with his enchanting rendition of Paddy's Green Shamrock Shore.
It bridges the gap between the popularized Irish export and the Irish traditional song. Its sad story of the Irish emigrant is one that touches the heart of the listener, Irish and non-Irish alike. So when a tipsy member of the audience stepped up and asked us to sing something unmentionable like Seven Drunken Nights it was the perfect crowd pleaser.
Something Borrowed
Dermot brought some really new life to the repertoire. Because of his experiences living in the States he has some songs that are typically American, such as The Boatman Song. It has a different sort of energy and he sings it with such guts that the audience immediately fall in love with it and start clapping along!
Dermot has a talent for drawing the crowd in with a story.
Dermot is originally from Ireland and shares that ability to tell a story so he also drew on his knowledge of the more lyrical songs such as Sammy's Bar. It tells the story of a man smitten and the tragic outcome of his unrequited love. It was a hopeless situation anyway - the other guy, Johnny, had a 'yankee car'! It came to a messy end when he tried a hairpin bend.
Something Blue
One of the favourites of this tour was the Warp Four rendition of The Holy Ground. Before you start shouting "Fine girl you are...!" which is what I would have done prior to this trip, stop right there!
Imagine Clannad, Enya, Sinéad O'Connor and Van Morrison all rolled into one in a kind of Band Aid scenario and you may be half way there. This is one of Pat's versions of popular songs and the treatment is pure magic.
Firstly, you can see the audience recognizing the song in disbelief. It's slowed right down. It has haunting harmonies. Its intensity is palpable. Secondly, the auditorium is usually silent during the song - quite a contrast to the upbeat and well known version. Thirdly, you actually see people mouthing the words along even though the treatment of the song is so different from the original.
It proves a hit every time it's sung and it couldn't be further from what you would expect from Irish traditional music, particularly four lads standing on a stage in shorts with hats.
Journey's End
A couple of other songs will always hold special memories. Journey's End had the power to reduce some of us to tears whilst singing it (imagine that!) and Roseanna gave Pat the opportunity to sing with his granddaughters on stage.
And that last song is the whole point of today's blog. The experience that Caitlin and Bekah had will be a lasting memory. It will stay with them for the rest of their lives. It's now part of their emotional soundtrack!
Closing Credits
Each of us bring different things to the table musically because we are shaped by a different cultural upbringing and life events. That defines us musically. That journey never stops. Which is why it's also so magical when a group of four comparative strangers get together and swap songs like this. It gelled us into a unit and because we enjoyed it so much I think everyone we sang to did as well. It's also why we were able to argue so energetically on stage about what we were going to sing next! There were just so many good songs to choose from.
The novelty of all the new songs and the fresh mix of characters seemed really successful. I've certainly expanded my horizons to include a whole new set of songs. I'll never be able to sing them without remembering this experience. This is why life isn't a silent movie.