Preamble
I started writing this blog as an account of my recent experiences singing with Warp Four, a sea shanty group I first came across in 2010. As I tried to describe all the experiences and lessons I learnt in the process it was turning into a blog of epic proportions. Instead of making one long blog I've decided to write about it over the coming days.
I'll start with the preparations today. I hope you enjoy reading about the lessons I learnt as much as I enjoyed learning them. I think they're pretty applicable to life in general and I've certainly come out of the process a different person to the one that went in!
Making Tracks
In 2010 I recorded a concertina track for Warp Four. It's a collective. There are no regular members apart from Pat Sheridan, its founder. Because it's made up of whoever happens to be available at the time of any particular performance it has a very chameleon type quality. That means that its recordings are varied and eclectic, differing greatly from one track to the next even within the same album.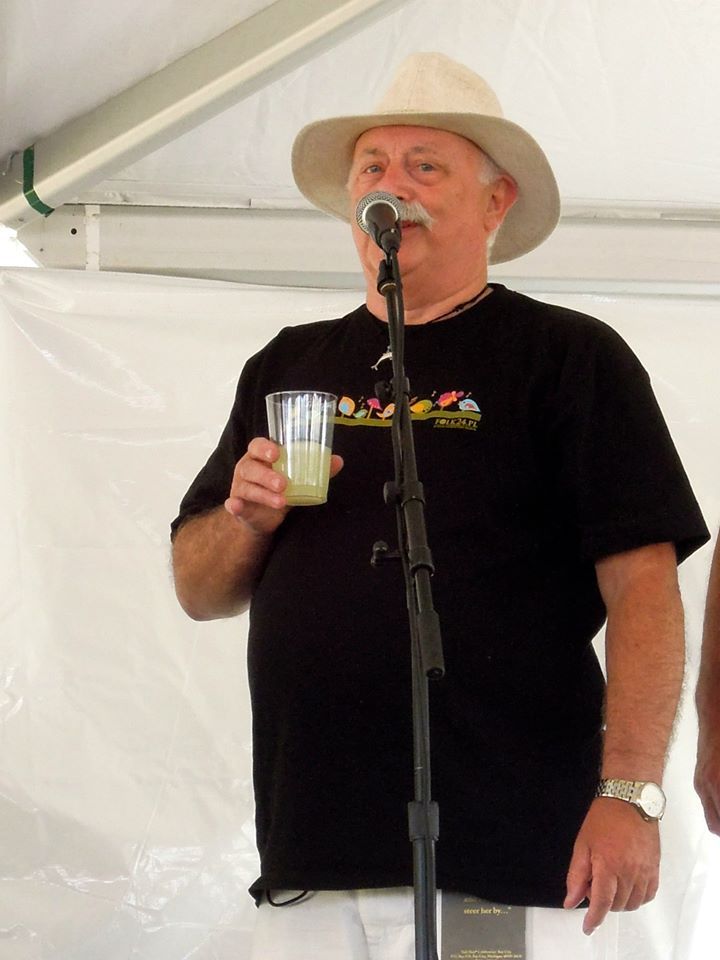 Pat Sheridan, founder member of Warp Four
At the time that I was asked to record the track I had no intention of doing anything else with Warp Four.
Earlier this year, however, I found myself caught up in Warp Four proper. Here's some of the story of how it happened and how a band of brothers, however fleetingly, was formed.
Baby Steps
When Pat phoned me and asked me if I was free to sing at the Tall Ships festival in Bay City, Michigan I had no idea what a "Tall Ship" was, I had never sung sea shanties in a group and, to be honest, I didn't really know where Michigan was! My only exposure to sea shanties was the little bit that I'd recorded for the Warp Four album. As I was assured that it would take little preparation and the date was in my summer break I thought, ah sure why not?
Just to put this into perspective, the group comprised four singers on this occasion, only two of whom had sung together before. When I received my first list of potential songs for the gig, all unknown to me, they arrived in the form of seven CDs in the post, none of which I knew, and an accompanying email with about 100 song titles on it. To say I freaked is an understatement.
Lesson Number 1: Don't assume anything (until you know the facts)!
I spent a good two or three hours trying to match the CD tracks with the list of song titles in the email. I only managed to match about a quarter of the songs together. I enjoy using technology to solve problems so I started using iTunes to look for tracks whose first lines matched a song title. This accounted for about another 10 tracks. Sea Shanty titles are a pretty elusive thing! I ended up holding my head in my hands and wondering how on earth I was going to cope with this!
When I'd spent a couple of sleepless nights worrying about it I finally 'fessed up to Pat shortly before the first rehearsal. "You know Pat," I said, "the thing is that I've only managed to learn about a third of these songs!" "Jaysus!" he replied. "If you've managed that much that's brilliant!"
Learning the songs turned out to be a very relaxed affair over which I'd been fretting unnecessarily!
Moveable Feasts
Over the next few months we met about four times. There were constant changes, including one member of the group who dropped out to be replaced by Dermot, who lives in the States. This presented us with the added complication that we could only rehearse with Dermot once we actually arrived in the States. Skype became an impossibility due to the time difference.
Over the course of our rehearsals without Dermot we achieved a massive amount. For me it was like climbing Mount Everest without oxygen. Paul, who has worked with Pat for many years, couldn't really understand my difficulties and spent a long time extracting the Michael from me. I developed a thicker skin than I'd been accustomed to for a while.
The rehearsals had a very relaxed routine. We'd get together in the morning. Then we'd sing a few songs before sitting down together for lunch. More often than not it was an experimental dish that Pat wanted to try (often something by Jamie Oliver) but sometimes Pat's wife, Pat (it can get very confusing in this household), would prepare the lunch and sit down to eat with us. I had a growing feeling that I had joined some sort of family.
How appropriate is that? Here we were singing sea shanties and replicating the sort of tight knit communal feeling that you'd get on board ship: we worked together, joked together and ate together. As I live in Ireland without any family around me this became a very special ritual for me. It was something I really enjoyed. This sense of "family" was something that grew throughout our time together. Once we were in the States we met up with Pat's daughter, son-in-law and their two lovely daughters, Caitlin and Bekah. I'm not saying we didn't have any disagreements (what family doesn't?) but the feeling of a bond just got stronger and stronger.
The "family" in the VIP tent!
As the time approached for us to travel to the States, Dermot's involvement became more crucial. He had songs to contribute but it was hard to see how they would fit in. Pat was very relaxed about it. It just seemed that Dermot's involvement would be taken care of once we got there!
The Boatman Song
We got a few recordings from Dermot via email. The impact of his songs was tremendous. They were very different to anything we'd sung so far. It was great! I remember the first time I put his CD on I was travelling to work. One combination of songs really caught my imagination.
Dermot has this arrangement of John Kanaka followed by The Boatman Song. John Kanaka is very slow and atmospheric and then it transforms into this really upbeat rendition of an old Ohio song, The Boatman Song, which Dermot accompanies on the bouzouki. Within seconds I found I was whooping along and having a great time.
If I'm honest I'd felt a bit of resistance about having to learn even more material and the inevitable change that meeting Dermot would mean. From this moment, however, I had absolutely no doubt in my mind that Dermot was part of the same family I'd come to know.
From the little snippets of conversation we'd had by email I knew he was an easy going type of guy. Hearing him sing just made him more amenable.
Maybe it's a musician thing. Maybe it's peculiar to sea songs. Whatever it is it's some kind of universal energy and I think it extends further than that.
Despite having to get used to Pat and Paul's sense of humour I suddenly found I was communicating with them on a different level. This was brought home to me one day when I was driving to Cork in my car. I had the CD player on full blast and was singing along to one of Paul's songs, South Australia.
As I sang along to the CD his voice suddenly came to life. "Jools! Jools!" it screamed at me. I stared at the CD player in disbelief. Then I realized that he was talking over my hands free speaker. The phone had picked up his call automatically. I snapped the CD player off and he laughed. "Jaysus!" he said, "You're taking this all too seriously!"
On Course for the States
I think in the few months we prepared for the trip I got more used to the banter and more relaxed about actually performing the songs. This was principally because Pat and Paul were so accepting of me as a newcomer. All that was left was for us to set sail for the States. We flew, of course. But when we arrived in Michigan the sight of the Tall Ships made all the preparations worthwhile.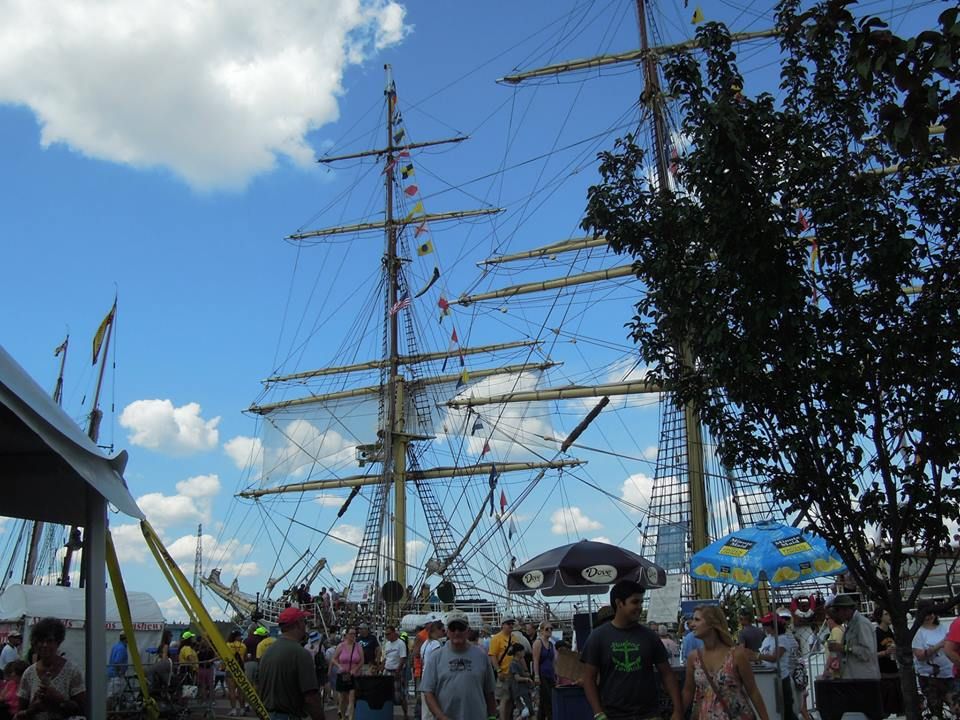 I didn't really understand what we had achieved in that short amount of time until Pat explained how long it normally takes to prepare for an event like this. I must admit that despite some doubts and some uncomfortable moments the effort was all worthwhile.
Apart from anything else I'd learnt a lot about the Irish sense of humour and not taking yourself too seriously. A gig is so much more than the music you're performing. It's equally about the people you're making that music with.
Look out for Lesson 2 tomorrow!