Something Old Something New
The novelty of moving out to the country is still a real thrill for me. When I lived in the city I used to walk down into town. I lived at the top of a very steep hill called Richmond Hill. Ironically, where I come from in the UK is near a place called Richmond upon Thames. The grandiose name, however, doesn't give the grottiness of the hill in Cork the mental image it deserves. Although, as I keep reminding myself, you can find something positive about every situation. The view of Cork City from the top of this hill was magical.
The walk down the steep hill was not so idyllic and the walk back home up the hill after a coffee in town was literally an uphill struggle. Living in Dunmanway I have a vastly different walk into town. Instead of parked cars and run down houses I have fields, animals and gurgling brooks. It's positively delightful! It fills my spirit with joy!
Fortunately the route into Dunmanway town is very straightforward but I have a fascination with OS maps and like to gaze at them anyway. I'm not a very good map reader. As a schoolboy I once got a group of four of us hopelessly lost on the Brecon Beacons and that experience haunts me to this day. Undeterred, I still like to dabble in map reading. I'm usually alone so can double back on my route without any public humiliation.
It was because of this fascination with maps that I discovered my walk into town is one of the most magical mystery tours I could ever encounter. As well as the handful of really historic buildings in Dunmanway itself there are ancient monuments, holy wells and a number of interesting and historical sites all along the walk through the country into town.
Fire in the Mill
Dunmanway itself has a number of old buildings. As the importance of the town dwindled its official buildings became increasingly disused. Buildings like the old methodist church are now up for sale. Their fate is undecided but they'll probably become accommodation or offices.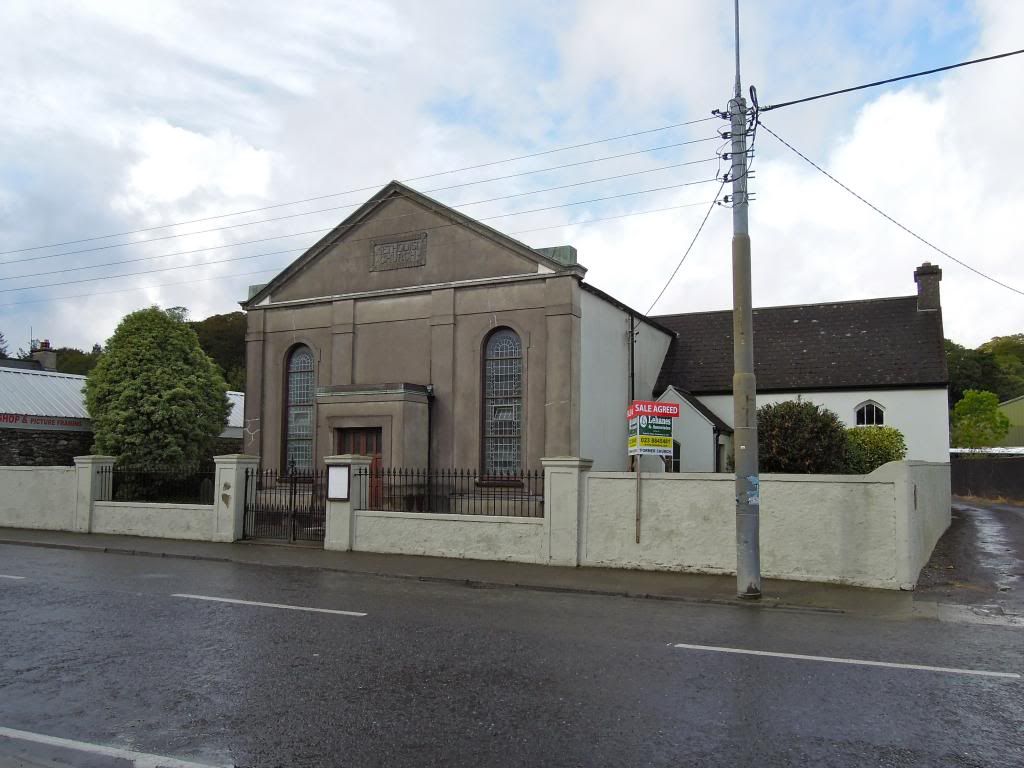 Less significant spots, but places that still give me goose bumps, are sites like the pile of rubble that I regularly used to pass and wonder about and that turns out to be the remains of an old mill which burnt down over a century ago.
The things that really fire my imagination are the really ancient monuments: the standing stones and the holy wells. These are the things that hold the most mystery and intrigue me simply because of the fact they were placed on the landscape by our ancestors possibly millennia ago and we don't really know how or why.
There are other examples of standing stones all over west Cork, such as the Drombeg Stone Circle which is a short drive away from Dunmanway.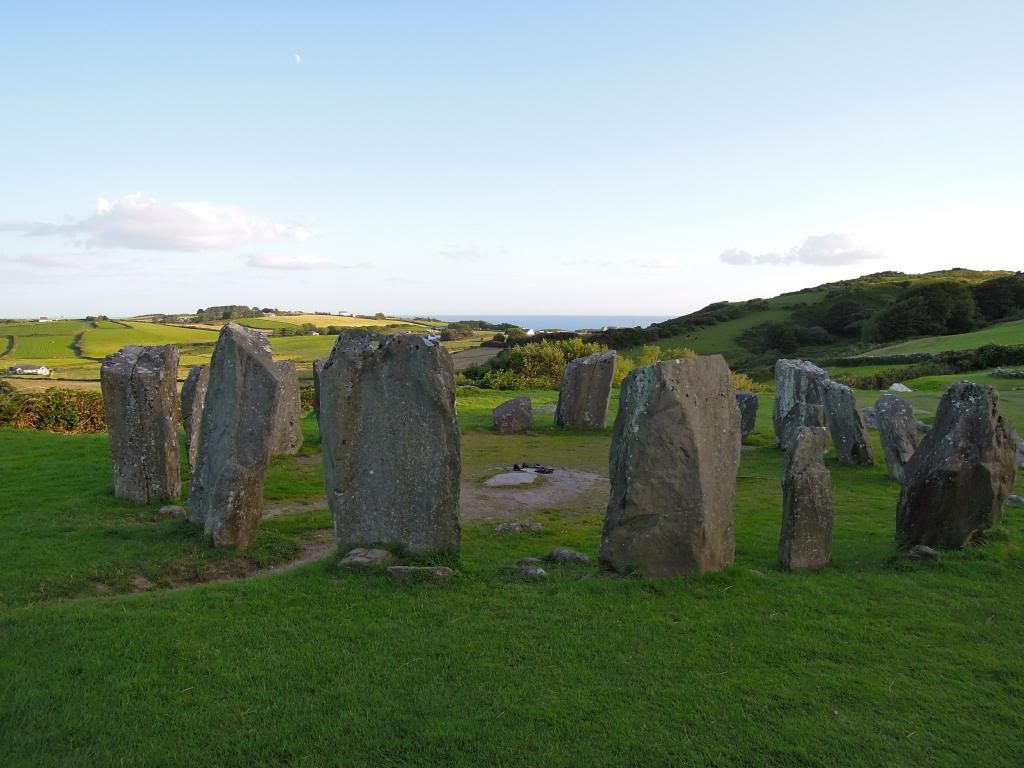 This is a magical and powerful place. It's well preserved and free to visit. As it's recognized as one of the culturally historic sites of Ireland it has its own car park and information boards. The roads around it are well maintained, it's easy to find and all the tourist guides will point you towards it. It would be rare to visit this site and be totally alone. It's one of the most popular and well known ancient sites that tourists inevitably head for. With its resemblance to Stonehenge and the stunning surroundings that's not surprising.
The Best Kept Secrets
But in my heart I'm a bit of a hippie even though I lack the hair. That's why I'm attracted to the ancient sites and monuments that aren't so well known. I like to tap into the energy in a much more intimate way. No one really knows what the significance of these stones are, after all, so I think it's important to learn to tap into these sites in your own way.
I thrill when I look out of my bedroom window and have the stump of a standing stone right in my line of sight. These stones nearly always have the most amazing vistas surrounding them and this one is no exception.
What amazes me even more is the way that I was able to identify several more ancient monuments on my way into town one day. I had done this walk numerous times. I'd passed the same fields without even paying them the slightest bit of attention until I looked on the OS map and discovered they were littered with sites of historic significance.
The best thing for me was the thrill of discovering these things when so few people notice or know about them. Even though they've been a feature of the landscape for thousands of years they're largely undisturbed. And what's so great about that is that they're also largely unnoticed. The farmers know they're there and graze their animals around the stones without any wish to either move them or draw attention to them. They accept them as a natural part of the landscape. The modern world develops without interfering with these ancient sites at all. The temples or timepieces of the Celts and the Druids remain largely in their original state, nestling in amongst the modern paraphernalia of farming and industry.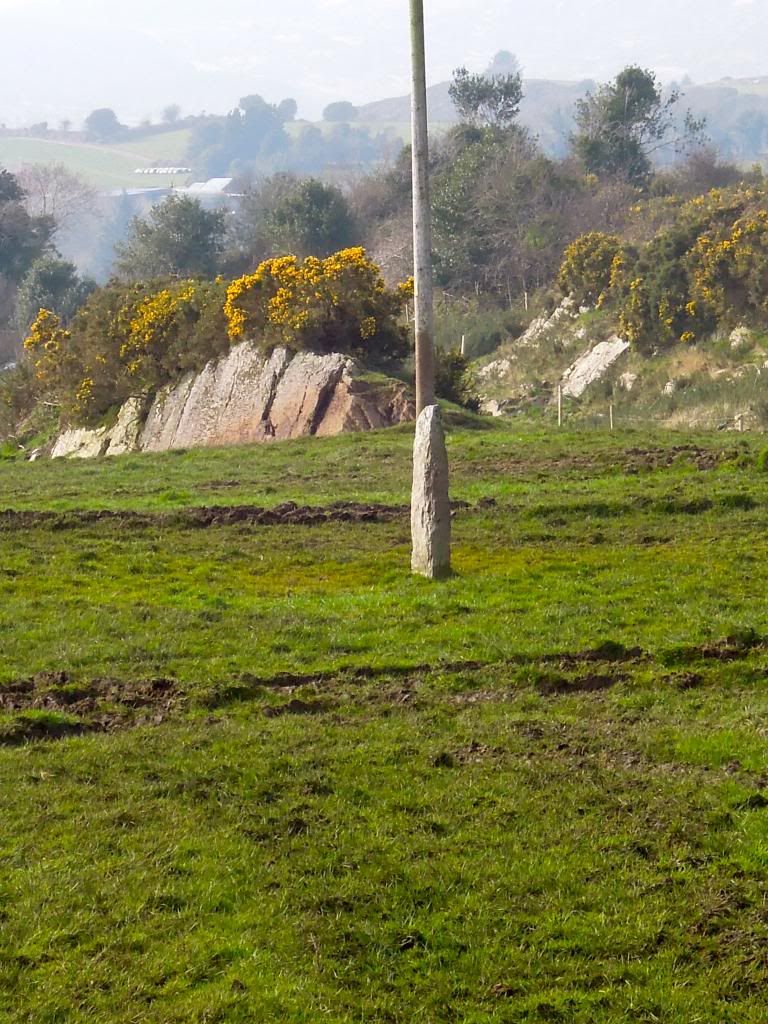 It's in this raw and natural state that I like to engage with the stones. In an intimate and silent moment it's possible to imagine the significance these sites held for the people who occupied this land thousands of years ago. There's no need to do anything other than gaze on them to feel the power they must have evoked and certainly still do if you're open to that energy.
I don't think their integration into the modern landscape detracts from their mystery. I don't even think it shows any disrespect for their importance. I think it just makes them all that bit more special when we find them.
More about the mysterious holy wells around Dunmanway at a later date!